As long as I was going to Seattle, I determined to take a couple days and drive out to the deep countryside of the western side of the enormous Olympic Peninsula. I hadn't been in that area since childhood, and accounts by my friend the late Randy Byers had encouraged me. Even before he became ill, Randy found relief from the stresses of his job responsibilities at the UW in what he called the "nature therapy" of short vacations out on the Pacific coast there. Ever since I heard him mention that, I'd wanted to take a look myself.
Randy's favorite place was the tiny town of La Push, center of the Quileute Nation. It's on the coast at the mouth of a river, and as you stand on the beach in town and look out, you can see the peculiar islands of the type called "stacks" that decorate the Washington state coast. They're detached pieces of land with sheer sides and flat tops with usually trees growing on top, as if they were part of the landbound forest, and they look like this:
And the surf rolls in and the waves make their whooshing sound and it's just a relaxing place to be. That's what you go there for: like many Indian towns, La Push is mostly a collection of randomly-placed prefab houses. I didn't see a motel, though there appeared to be some apartments for rent. There's one restaurant, where I was hoping to have lunch but it was closed for repairs or something.
La Push is at the end of a 15-mile dead-end road that comes off the highway (US 101, not much of a highway in that back country, one lane in each direction) at the town of Forks, which does have motels but is best known as the setting for
Twilight.
They didn't film the movies there, though, and I understand why. Forks is a dingy old timber town with nothing much to it, though I did enjoy the town museum with its photo of the young local men who formed an engineer battalion and went off to apply their lumbering trade in construction on the Western Front in WW1.
I saw nothing relating to
Twilight
in Forks, although on the road to La Push was a small resort with a sign in front reading "No Vampires Beyond This Point."
I also got to the rain forest tucked up in the Hoh River valley deep inside the national park, about 20 miles up from the highway, another place Randy visited and found rewarding. Vegetation everywhere. Ferns and grasses blanketing the forest floor, so thick that the only chance a tree has to grow is to fasten itself on a fallen log which subsequently decays. And when the trees grow, mosses come and drape themselves over the branches. They're not parasites on the trees, they just rest there and take their moisture and nutrients from the cold but humid air. It looks rather like this: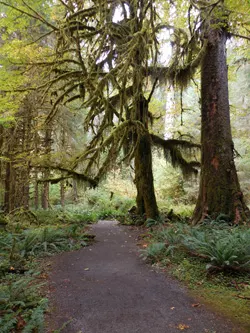 Randy also took the very long and twisty drive - about 70 miles - to Neah Bay, on Cape Flattery the westermost point of the 48 states, and so did I. It's another Indian town, the home of the Makah Nation, who've erected a very impressive museum of their culture. Forced to move away from their original village in the days of assimilation, they lost much of their traditional culture. But a few decades ago, a major storm unearthed a lot of artifacts from the original village site. Anxious to preserve them, the Makah contacted some archaeologists who'd been friendly to them and organized an excavation, and many of the finds are now in the museum. From this the Makah learned, for instance, that they'd been fishing with nets since before the assimilation period, so this is part of their traditional culture.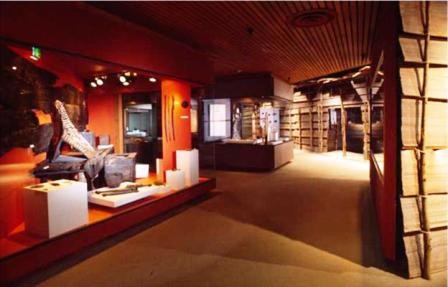 On the road to Neah Bay, out in the countryside but not far from Port Angeles, is a little cafe specializing in blackberries. Not only may you have blackberry pie for dessert, but you can have your hamburger with a blackberry-infused bbq sauce. Yum.