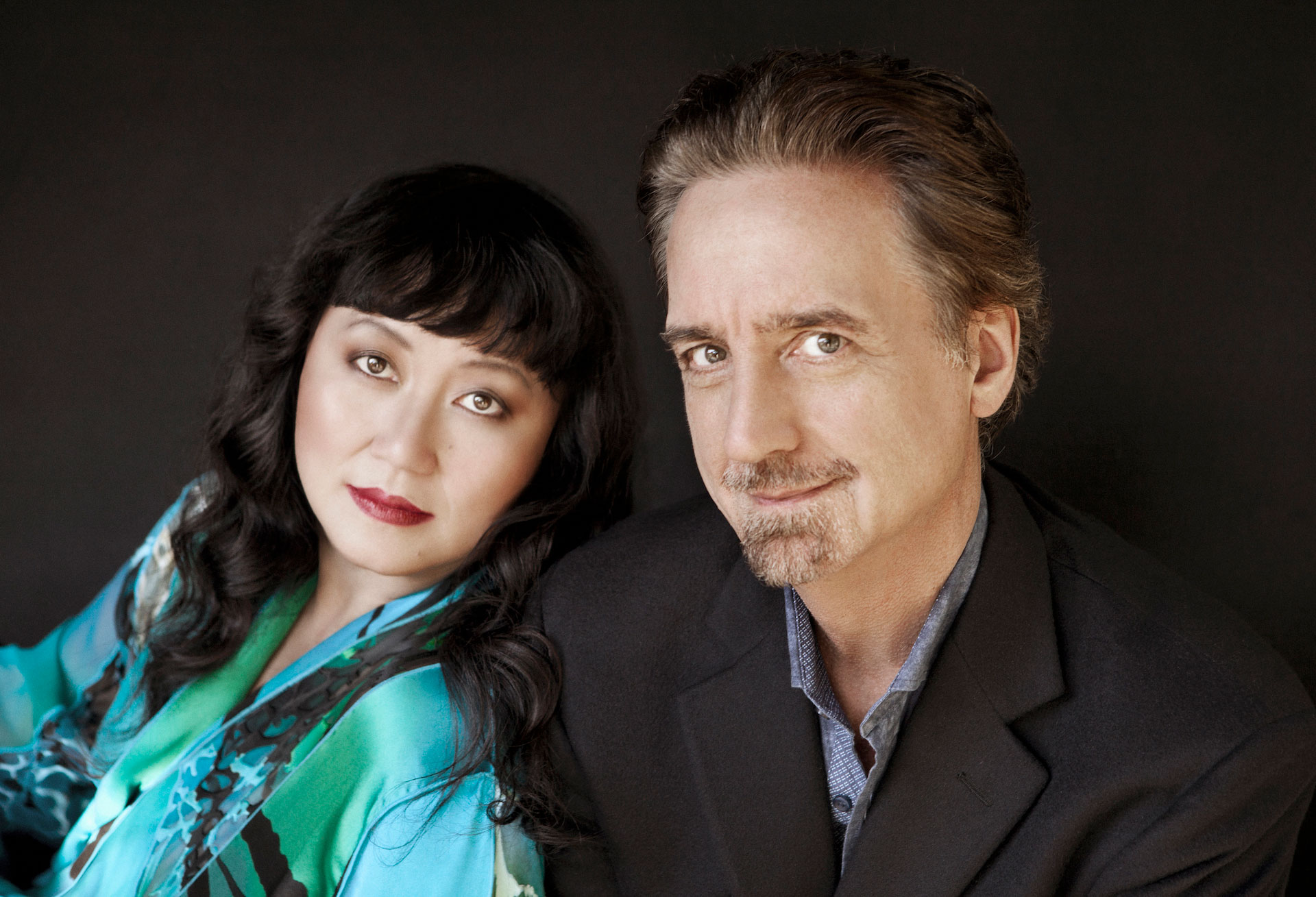 David Finckel and Wu Han are more than a duo who go around playing sonatas for cello and piano. Finckel was for many years the cellist of the renowned Emerson Quartet, and he left that group to spend more of his time playing other things, including recitals like this one, and to allow himself and Wu Han to focus further on their work as artistic administrators. They run the Music@Menlo festival out here in California every summer and also program the Chamber Music Society of Lincoln Center in NYC where they live. And they've been married for over 35 years. But they're both active as performers in their festivals, and they still play recitals also. I got to this one on Sunday in Hertz Hall at UC Berkeley - a favorite venue of theirs, Wu Han said in introducing the concert. It's a simple raked auditorium, small enough to project soloists to the top of the back where I was sitting, and the acoustics are good. It was pretty well packed for this concert.
Menlo concerts are usually for larger ensembles, but they're often like this: a lot of standard repertoire classics, something that ought to be a classic but you haven't heard it, and a bit of new music. Of the two 19th century works on this program, Brahms's Sonata No. 2 in F, Op. 99 is the standard, and Saint-Saëns's Sonata No. 1 in C minor, Op. 32 is the one I hadn't heard before. It's got more of the dark energy that animates a work like the
Organ Symphony
than do most of the other Saint-Saëns chamber works I've heard and consequently it could be as well German as French. Paradoxically it made the Brahms sound more superfluous than it does when played with the other Brahms cello sonata, Op. 38. Especially because of the similar procedure of each work's slow movement, with one instrument playing a lyric theme against a background of detached "raindrop" notes from the other. Saint-Saëns is more systematic about switching the two roles back and forth, and he's more clever and light-hearted about it, because who wouldn't be more of those things than Brahms? I like Brahms, but the Saint-Saëns was the more outstanding piece in this half.
Throughout both these works, Finckel kept the same sober, calm, rich and full tone coming out of his cello no matter what was going on, while Wu Han attacked the piano part with the animated blaze that always characterizes her playing.
The other half was more recent material. Shostakovich's Sonata in D minor, Op. 40 is actually an early work, just predating the first time the Soviet regime denounced his music, and consequently has a bit of an innocent air. This is especially obvious in the Largo, which is lyrical without the anguish that characterizes his later work. (A similar air suffused the encore, the Andante from Rachmaninoff's G minor Sonata, Op. 19, except that Rachmaninoff lets the piano go on a lot longer.) But Shostakovich's scherzo is every bit as violent as the later ones that are supposed to be portraits of Stalin, and the finale has the cheekiness that was in his work from the beginning. Wu Han gave this piece the same drive that she employed in the other works, while Finckel varied his cello tone more, giving a welcome expressiveness.
The concert was filled out with two movements from a work recently commissioned for these performers,
Ephemeral Objects
by Pierre Jalbert (US-American, Quebecois ancestry). The performers wanted a suite of seven movements contrasting sufficiently that any selection of them in any order could be put in a concert depending on what would fit. Jalbert went along with this utilitarian plan, and we heard two movements on Sunday: a slow one featuring Wu Han reaching into the piano to pluck or thump on the strings, and a jagged scherzo that outfoxed Shostakovich the way that Saint-Saëns outfoxed Brahms.
Have I conveyed just how skillful and experienced, in terms of knowing how to express the music, the playing was? This was a bit of a rarefied recital, though less so than some chamber music concerts I've heard at Hertz, but it was well worth the expedition into Berkeley for it.